Why is Staging a Home so Important to the Selling Process
Home Staging is an investment, but many Calgary home sellers view it as an expense. Before you say "NO" to professional staging, let's look at the benefits.
Psychology studies reveal that a first impression is formed with 7-17 seconds and that 55% of a persons judgment is determined by physical appearance.
It's no secret that 90% of potential buyers start their home search online (According to NAR Study for 2012 on Home Buyers and Sellers). For sellers this may be the only chance to make a lasting impression. Unappealing MLS® photos lessen the property's chance of making it to the potential buyers must tour list.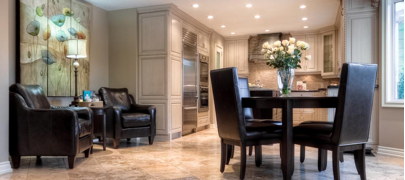 Home staging has become a necessity in today's market to gain a competitive edge against other homes for sale. The major criteria for selling real estate used to be size, location and price, but today, property conditions and presentation are imperative.
Most buyers today are spending their top budget on a home, leaving no money left over for major repairs. Also many buyers do not have the time or aspiration to renovate after moving in. 63% of potential buyers will pay more to have a property that is move in ready.
Staging can not change the size or location, but it can greatly influence the best features of the property. The more attractive the property is, the more successful the marketing will be. A professionally staged home, shows better in advertising, MLS® and open houses. This truly is the one chance to make a lasting first impression.
Your home is one of your largest investments, staging will help maximize your return and protect your equity. The investment in staging is much less than a price reduction, additional mortgage payments, taxes, insurance and bills, aside from the anxiety and inconvenience of being in transition.
Here is an example of one of our many success stories:
This vacant single family home in Deer run was not getting an optimistic response from buyers. It was already in move in condition but buyers could not visualize how the floor plan would layout, most buyers left thinking it was too small. After nearly three months with no offers and limited showings we were called in to stage the property. Just 12 days after staging the property sold.
Thank you for your wonderful staging advice!! We worked really hard and spruced the place up and it really paid off!! So thank you so much for your part in helping us get exactly what we wanted...more actually... ;)

- Sam and Gaz
Elysse Bulloch is with Simply Stylish Staging here in Calgary. Elysse is not only a talented home stager but also an instructor at the Calgary Real Estate Board. To contact Elysse about staging your home feel free to contact her at www.simplystylishstaging.ca